What on Earth is a Mongolian or Chinese Braai or BBQ??
Lets first give you a history lesson:
Although Mongolian barbecue first appeared in Taipei in 1951,the stir-frying of meats on a large, open surface is supposed to evoke Mongolian foods and Mongolian traditions. The preparation can also derive from Japanese-style teppanyaki, which was popular in Taiwan at the time. The very first Mongolian Barbecue restaurant (Gengis Khan Mongolian BBQ) was opened in 1976, and was located in downtown Taipei, Taiwan. As Mongolian Barbecue became more popular, it was successfully introduced to the West.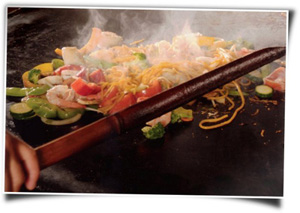 The History Itself:
In the Thirteenth Century however, the great warrior Genghis Khan and his soldiers from the grassed plateau of Mongolia conquered many countries from China to Hungary and established one of the greatest empires the World had ever known.
Legend has it that after a long day of hunting, Genghis Khan and his Mongolian warriors would make camp and prepare extravagant feasts.
Using their swords, the warriors would prepare slivers of meats, combined with whatever vegetables and spices on hand, and grilled them on their upturned shields over a hot blazing fire. This type of cooking has become known the world over as Mongolian BBQ.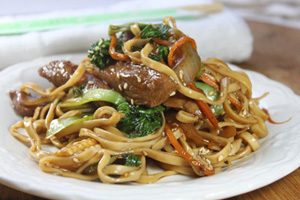 Typically, diners choose various ingredients from a display of thinly sliced raw meats and vegetables, and put them in a bowl or on a plate. These ingredients are then fried on a very hot plate with the diner's choice of sauce. Oil and sometimes water may be added to ease cooking, and the ingredients are stirred occasionally. Later on the guests add either cooked rice or egg noodles to complete the dish.
The ample size of the Mongolian barbecue griddle allows for several diners' food to be cooked simultaneously on different parts of the griddle. Each dish will be stirred in its turn. When cooking is complete, each finished dish is scooped into a bowl and is ready!!
This type of event promises to be great fun, as the guests themselves cook their own food just the way they like it. It also allow guests the option to eat what they want when they want to...
What do we provide:
We come to your event fully prepared, with all the ingredients ready for a fun-filled event!! All you need to suplly is the venue and serving area, and motivate your guests to start cooking!!
We supply:
The Mongolian/Chinese Braai Plates.
The Choice of either wood-fired cooking (Traditional and much more fun) or the option of cooking on gas. - We bring the braai drums or gas stoves to you!!
We supply the Gas or Wood.
We supply all cooking utensils.
All the ingredients as included in our quotation page listed below, weighed and pre-packed, ready for use.
The CHOICE of either Rice or Egg noodles.
The cutlery, crockery, serviettes and chopsticks.
The sauces to compliment your dishes.
Sound advice for your guests on how to get cooking on their own!!
All Mongolian/Chinese Braai/BBQ bookings include Cutlery, Crockery and Serviettes.
Minimum 30 ADULTS per booking!!
Children under 10 Years of age are charged Half-price, but cutlery and crockery for them are charged at normal rates...